Hey all!
Thank you for doing this cleanse with me! I'm always grateful to have company on my wellness journey.
In my experience, frequent exposure to tv/streaming, social media, radio, news, and processed foods really weigh me down. When I consume those things in high amounts, I can't function at a high level. So I unplug to free up space in my mind and clear out my body. After a cleanse, I feel lighter, think more clearly, make better decisions, have better days, vibrate higher.
Think about your kitchen garbage disposal. If you keep stuffing it with food debris, it gets clogged. It might even get funky. You've got to run some water, throw some lemons and ice cubes down the drain and flip a switch to clear it out. Let's flip some switches in our lives and clear out!
Like I said on Instagram… you don't have to eliminate everything I listed! I'll even be allowing myself 5 minutes of social media every few days to post updates. Just set an intention and make mindful choices. The purpose is to "lighten" up. Even if you abstain from just one thing on the list, I think you'll notice a difference. Ase.
My intention for this cleanse…
I intend to clear out low frequency energies to manifest more love, more light
and more energy to accomplish my goals.
What's your intention?
Encouragement & Resources
I'll update my blog with yoga poses, books to check out, meditation tips, meal inspiration and writing prompts. The resources will vary as I flow through the cleanse as well. Post in the comments to share with the group (we're 10+ strong!) or text me 313288.2110.
Updated through May 28th.
Kicking off week one nice & easy with savasana (for rest and surrender), gratitudes and a simple writing prompt.
Savasana …
Lay flat on your back. Release every muscle you can think of, starting at the crown of your head and working down to your feet. Gently draw the shoulder blades together, opening the chest. Relax your lower back. Relax your jaw. Get cozy. Face your palms up to receive a desired energy or down to really turn off. Allow your feet to fall to opposite sides. Breathe. Long inhales and even longer exhales. Think about your intention. Then let it go. Focus on your breath. Use a rolled blanket behind your knees (or on top of you) for comfort. I'm saving this pose for the evening (whether I flow or not) and aiming for 10 minutes every night. Drink water afterward.
Variations: I'm an advocate for yoga props and variations!!! Since giving birth, I've had lower back pain so I use a rolled yoga mat under my knees to take pressure off the lower back. You can even lay prone (on your stomach). Still not relaxed? Try savanna on your side with a pillow, blanket or rolled mat between your knees, something soft under your hip and a small pillow for your head. I like to guide yogis to not "do yoga" how you've seen it done, but instead in a way that makes you. feel. great. So get all the pillows and all the blankets and chill out. Do this pose in the morning or at night, in bed, on the sofa or on your mat. Hold space for yourself by lighting candles, burning incense, diffusing essential oils, turning the lights down low, turning on your salt lamps. Do your thing. Om.
Gratitudes … Every morning this week, before you start your day, think of three things you're grateful for. Big and small. Smile. Breathe deep. Even do this throughout the day when you feel tested. Drink water afterward.
Writing Prompt … My energy cleanse intention is ___________. It could be one sentence or three pages. You don't need a formal journal. A sheet of paper is fine. There is power in writing out our desires. Drink water while you write.
Cleanse Tips … When you get the urge to scroll your timeline or watch tv or listen to pop radio… read, listen to an audio book, journal or go outside instead! Currently, I'm re-reading Jewel Pookrum's Vitamins & Minerals from A to Z and the rest of my book wish list is HERE. Sometime this month I'll start Sacred Woman or Cellular Awakening. What are you reading?
Have a mindful week y'all.
-Suai
I want to encourage you to meditate
Here's what I know. Some of us come into the world with a little more baggage than others. Saddled with karmic debts. Cast into negative generational cycles. Some of us carry the weight of childhood events throughout our adolescence, adult years and then into old age. Some of us have trouble controlling our selves (separation intended). Over-eating. Over-spending. Over-thinking. Over-loving. Over-doing everything. Meditation can help with all of that.
If you are here, you are seeking change - and you have the sneaking suspicion that changes in diet & lifestyle and practices like meditation will bring about that change. You're absolutely right!
Meditation is a tool that can help! Think about your cell phone. If we need to send a text or place a call, we use our phone as a tool to do that. If you are over-doing life and want to get in touch with yourself - Hey, Self? What's going on? Are you good? - use your meditation tool to do that.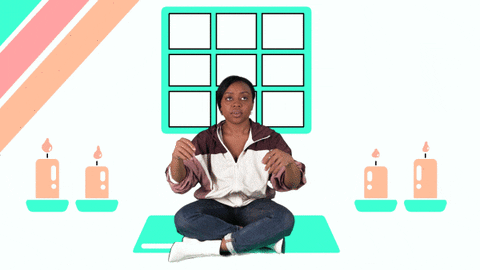 I'm trying to see something right quick. Add up the time you spend doing things - eating beyond being full, scrolling timelines, watching tv, shopping, thinking about stuff - and the amount of time spent sitting and talking with self, there's probably an imbalance. Note: excessive social media, frequent tv watching, substance indulgence/abuse… those are all tools that disconnect us from our selves. Yikes. Now that we're in week two (!) of this 30 Day Energy Cleanse and you've hopefully scaled back in one of those areas, you may be thinking more clearly, so… I WANT TO ENCOURAGE YOU TO MEDITATE!
OK, i want to, but…. "how suai?!"
First, this is what meditation is for me… My practice is a blend of Buddhist chanting, dissecting Bible and Bhagavad Gita scriptures, breath work, selective thinking and writing down the messages that come to me at my altar. My altar is a physical focal point that helps me connect, like a mirror. I don't need it to meditate, but I do love how it looks (and smells) and what it represents.
I've been studying meditation techniques and how our minds work in this digital age, aiming to heal myself and others. I recently read something very comforting. I'm not the only one replaying negative thoughts! A lot of people do it! Thank goodness! (just kidding, I want us all to be healed!) Neuroscientists call the repetitive, often negative thought patterns "the default mode network". Sounds weird, right? Almost like a social media echo chamber? Yeah. I want to be aware of that and know how to stop it.
So… how do I/we break out of that network? By staying in contact with our selves and IN CONTROL OF OUR MINDS. By reprogramming our subconscious. By creating time and space to be alone and with our selves. By being mindful of every moment. By sitting down for 5, minutes today and 10 minutes tomorrow and 15 minutes the day after that, saying, "I am in control of my mind, I am awakened and I love myself".
If you're ready to start your meditation practice or you already have and need a boost, here are two options:
Solo guided meditation
The guide below is based on a Buddhist breathing meditation. Were you able to relax? Mind still busy? Let me know in the comments. Any outcome is fine. Try again tomorrow. It is a practice. The first time I did this meditation, I was lead by a yogi in California and my word before we ended our call was… calm. I felt calm. Downloadable PDF HERE.
Private guided meditation
In your beginning, meditation can be challenging. Am I doing this right? Why can't I stop thinking? I want to help you. Schedule a guided meditation with me HERE. The call will last about 15 minutes and you'll need to be in a quiet space without distractions. Mornings and late evening are best.
Reminders
Drink lots of water! Keep reading! Get Outside! Exercise!
Eat clean meals! Check out my vegan food guides HERE.
Listen to healing music! Check out my songs "Mantra" and "Altar" HERE.
Writing Prompt …
Write a list of 21 things that make you smile.
Have a mindful week y'all.
-Suai
walk it like eye talk it
Truth moment: I haven't exercised once yet on this cleanse! I mean, every day is arm and leg day because lifting a 16+ pound baby and tipping up and down my stairs doing laundry has to count for something, right? I could do more for my body though!
Before my son was born, I had a trainer and a gym membership and I was seeing results! After my son arrived, I fell all the way back on weight training. Getting to the gym isn't impossible now, it's just a battle I choose not to fight. But another mom hipped me to Leslie Sansone's Walk at Home videos. They're fun and effective y'all. You "walk" a mile (or more!) doing simple step aerobics to fun music and Leslie and team's super enthusiastic prompts. The energy is high and the first time I completed a video, I was sweating! I'm bossing up and doing one. video. every. day. Channeling my inner Martin, Gina AND Pam.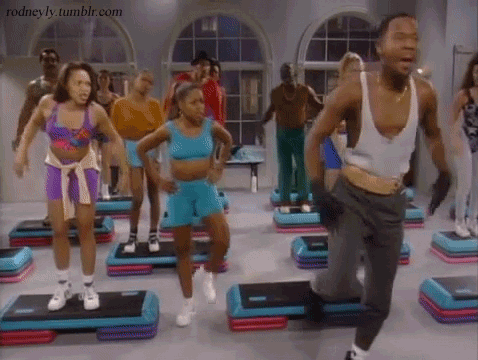 i have been reading though…
… and I feel myself getting smarter every day, especially without the distraction of tv and all day social media exposure. Sidebar: I've been allowing myself 5 minutes of social screen time per day. When I go over, I make it up by reading a few extra pages or sitting outside in the sun — balance.
Back to reading. When we learn something new as adults, we're keeping our minds sharp and creating new pathways in the brain. I want to be alert for my son and his children and their children! And I want to have a pleasant, not stumbling for lack of knowledge experience in my day to day life. So I'm reading every life elevating text I can get my hands on.
Sacred Woman
by Queen Afua is teaching me how to be just that. For some time now, I've wanted to be that type of woman who floats by, smells like wisdom, has that self love glow, whose skin is clear and dewey in the middle of a midwest winter… but I've never known how to get there. This is the guidebook. I'm only about twenty pages in and already wowed.
Conde Nast Traveler
is opening my mind to places in the world I've never heard of. The articles and photos are richly detailed. My world travel list grows with each issue that arrives at my doorstep. Seeing is believing.
Yoga Journal
is keeping me abreast of what's going on in the commercial yoga world. I take from it what I need. The articles on meditation and non-appropriation are my favorite.
I'm finishing this cleanse strong! I'll update again at the end of week four with final thoughts and a couple takeaways. In the meantime…
hungry?
Recipes HERE
want healing music?
Listen to my ep ABHYASA HERE
need a private in home yoga class?
Practice with me HERE
Want to meditate?
Schedule that HERE
ready for Piano or vocal lessons?
Sign up HERE
Wishing you all calm and clarity!
-Suai